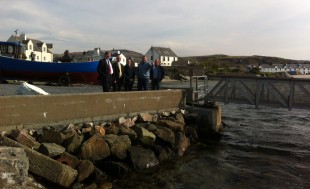 Islay will always have a special place in my heart – it's where I grew up, where I went to school and where my parents still live.
It might be a few years since I lived there but I'm a still a regular visitor and it's good to be going back to my roots this week to hold the first of a series of public Q&As.
These events – in Bowmore, Edinburgh and Dunfermline – will be a chance for people to come along, air their views and get answers to their independence referendum questions.
As the clock counts down to September's crucial vote – and it's now just five months to go – it's important that people make sure they have the facts they need to make an informed decision.
The Q&A sessions are part of this but there's a lot more going on as well. We're continuing to publish Scotland Analysis papers which give an incredible amount of detailed information about why Scotland is better off as part of the UK. We've also published one page summaries of these as well as our In the Know factsheets.
I hope we'll get a healthy turnout at the Q&A events and am looking forward to some robust discussions. Come along, bring a friend and let's talk about Scotland's future.