Yesterday found me back on Islay for the first time since becoming Secretary of State.  It was a packed day and going from meeting to visit frequently involved running into someone that I had been at school with, or who had been at school with one of my sisters or who was part of my extended family - sometimes all three!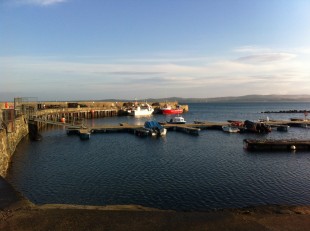 There is a good buzz about Islay these days.   A lot of the projects that I saw yesterday like the marina development at Port Ellen, the Re-JIG recycling project in Bridgend and Bowmore and the Islay Energy Trust are all projects where the community has identified an opportunity and got on with exploiting it for themselves.   That is how it ought to be.  The role of government ought to to enable communities to provide for themselves - not to do the providing.
Yesterday also included a brief stop at the Ionad Chaluim Chille Ile to meet students on their last day of a leadership training course.   I was invited to talk about my own "leadership journey", it occurred to me that the journey from Port Ellen Primary to Westminster has been a long one - and one that few would have predicted thirty years ago.
We've also seen a change in the kind of people who are coming to Islay for tourism  - the tourist season is no longer limited to people who used to come during the Glasgow Fair fortnight.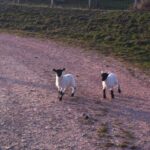 Nowadays we're seeing people come to Islay from all over the world with money to spend, drawn in by their interest in wildlife, scenery and, of course, the world-famous single malt whiskies.
While  this increased tourism is a kickstarter for many new businesses there are still challenges which the government can help with including transportation, broadband and infrastructure.  That was the message that came across very clearly everywhere I went yesterday.
Another thought occurred to me after I spoke to the leadership class - I have a great deal to be grateful for in my Islay upbringing.  It gave me a first-rate education, an awareness of my own cultural and historic roots and the confidence to take them and contribute to public life on a national stage.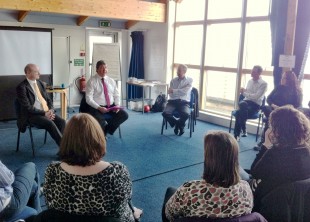 Finally, the day was rounded off by the first of my village and town hall question and answer sessions in Bowmore Village Hall.  It was a good discussion with a range of views in the hall on where Scotland's best constitutional future lies.  It was occasionally robust but always good tempered and mannerly.  In this, as in many things, Scotland can do a lot worse than to take their lead from Islay.
Visit our referendum page for more Scottish independence referendum info